De aantrekkingskracht van NFT's (niet-inwisselbare tokens) lijkt te zijn afgenomen. De markt lijkt nagenoeg geïmplodeerd, mede door de recente onrust op de cryptomarkt.
De NFT-omzet voor juni 2022 bedroeg iets meer dan 1 miljard dollar, vergeleken met een piek van 12,6 miljard aan het begin van het jaar.
Een NFT is een niet-inwisselbaar document van echtheid waarmee het eigenaarschap van digitale objecten wordt aangetoond. Dat document is vastgelegd in de blockchain, het grootboek waarvan ook cryptomunten gebruikmaken.
De NFT leek een nieuwe wereld te openen voor illustratoren, fotografen en kunstenaars, die hun digitale creaties kunnen verkopen als fysieke schilderijen, foto's tekeningen of schetsen. Sotheby's, het grootste veilinghuis ter wereld, verdiende vorig jaar 100 miljoen dollar aan de veiling van NFT's. Zo werd in juni een zeldzame CryptoPunk, de Covid Alien, geveild voor 11,8 miljoen dollar.
Op zijn hoogtepunt trok de NFT-markt enorme bedragen aan, waaronder 2,9 miljoen voor een token van de eerste tweet van Twitters medeoprichter Jack Dorsey. Een digitale collage van de beeldend kunstenaar Beeple bracht 69 miljoen dollar op en het belangrijkste token voor het play to earn videospel Axie Infinity bereikte een totale waarde van 9,75 miljard.
De totale markt werd in november nog geschat op 3 biljoen dollar. Nu is daarvan nog maar een derde over.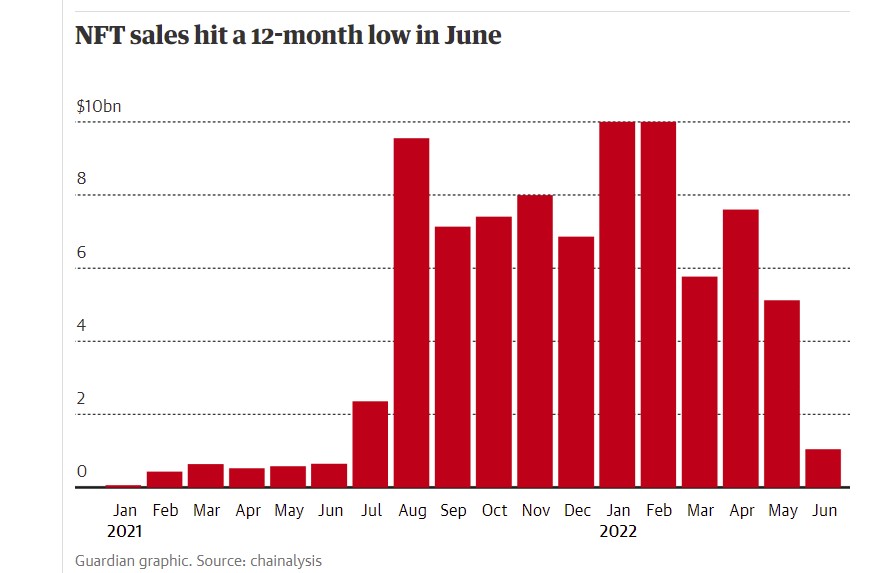 Deze conclusie is wel heel voorbarig en lijkt gebaseerd op het feit dat NFT's alleen relevant zijn in het verhandelen van digitale kunst. NFT's openen de weg naar een nieuwe wereld van belonen en waarde toekennen. We staan nog maar aan het begin van de ontdekkingsreis wat er met deze technologie mogelijk wordt. Dus de hypes voorbij maar de ontdekkingsreis van NFT's begint nu.
Ton van Mil
Media Perspectives
Ik ben het eens dat de hype voorbij lijkt te zijn. De technologie is de "Peak of Inflated Expectations" voorbij waardoor alle mensen, die geïnteresseerd waren in de winst op de korte termijn, zijn afgehaakt. Het is nu aan de mensen die geloven in de kracht van de technologie om NFT's naar de "Plateau of Productivity" te brengen.
Bovenstaande reacties zeggen genoeg. Geven exact weer waarom NFT's lekker in de fringe door blijft rommelen in online cultjes and thats it.
Het gaat in dit nieuwsbericht over de hype, niet over de potentie van de technologie.
Uw e-mailadres wordt niet op de site getoond
Mastercard is een samenwerking aangegaan met verschillende NFT marktplaatsen zodat klanten desgewenst non-fungible tokens (NFT's) kunnen kopen.
Het legendarische LimeWire, ooit een platform voor het delen van (illegale) muziek, wordt een NFT marktplaats. Onder meer heeft Universal Music Group zich op het platform ingeschreven.
Instagram faciliteert vanaf deze week op beperkte schaal het gebruik van niet-inwisselbare tokens, oftewel NFT's.
Alle rechten voorbehouden © Emerce