Home > Nieuws > Altcoin nieuws > SocialBlox komt met eigen NFT's, ontwikkeling loopt op rolletjes
Foto: SocialBlox
Het Nederlandse blockchain bedrijf SocialBlox (SBLX) blijft achter de schermen grote sprongen maken op weg naar het ambitieuze doel om de wereld van social media op de schop te nemen. Door blockchain technologie te integreren met social media hoopt SocialBlox een ware revolutie te ontketenen.
Aan het begin van februari werd de beta-fase van het SocialBlox platform gelanceerd. Vanaf dat moment werd het voor een beperkt aantal gebruikers mogelijk om de functies van SocialBlox op de mobiele app daadwerkelijk te ervaren. Dit betekende dat de eerste challenges ook gedaan werden door gebruikers.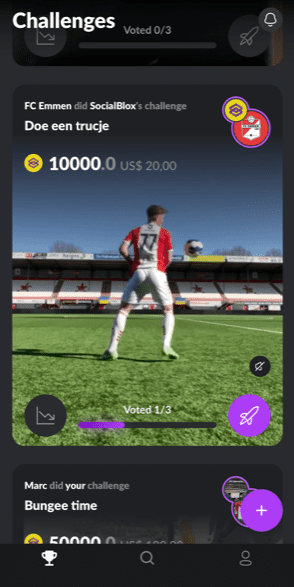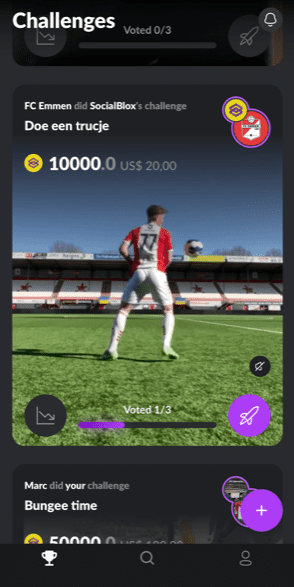 Deze challenges liggen aan de grondslag van wat SocialBlox uniek maakt. Gebruikers kunnen met deze challenges andere gebruikers uitdagen om iets te doen. Mochten zij uiteindelijk de challenge succesvol afronden dan krijgen zij een vooraf vastgestelde hoeveelheid SBLX tokens uitgekeerd. Deze challenges worden mogelijk gemaakt door de technologie van smart contracts.
Er is kortom een werkend product dat al veelvuldig wordt gebruikt. Bij veel crypto projecten blijft het vandaag de dag bij beloftes en plannen voor de toekomst, maar bij SocialBlox wordt de daad al vanaf de eerste dag bij het woord gevoegd. De beta fase loopt op rolletjes en alle functionaliteiten draaien naar behoren.
Een blockchain social media platform is natuurlijk niet compleet zonder integratie met non-fungible tokens (NFT). Het is daarom niet geheel een verrassing dat SocialBlox ook met hun eigen NFT collectie komt. In totaal zullen er 5.000 NFT's in de verkoop gaan, waarvan 1.000 worden op dit moment al worden verkocht in een zogeheten 'mystery box'. Deze mystery box NFT's zijn te koop op de website van SocialBlox.

SocialBlox is pre-selling a limited amount of 1000 NFT mystery boxes! Now is your chance to secure your spot. Crazy longterm utilities and shortterm perks. #NFT #NFTCollection #NFTartist #SocialBlox #Ethereum #NFTLaunch pic.twitter.com/xCCCbXArUc
— SocialBlox (@SBLXOfficial) March 23, 2022
Bezitters van dergelijke NFT's hebben niet alleen een uniek verzamelitem om tentoon te stellen aan de wereld, zij krijgen ook een aantal mooie privileges die bij het bezit zitten inbegrepen. Zo krijgen SocialBlox NFT bezitters toegang tot exclusieve events in de toekomst en kunnen zij bijdragen aan het beheer van het platform. NFT's hebben dus ook governance opties. Extra perks zullen binnenkort bekendgemaakt worden.
Het is voor eenieder mogelijk om te participeren in de social media blockchain revolutie. Geinteresseerden kunnen exclusief op Knaken.nl SBLX tokens aanschaffen. Op dit moment is er nog sprake van een pre-sale, maar spoedig zal SBLX publiekelijk verhandelbaar zijn. Wees er dus snel bij!
Meer informatie over SocialBlox is te vinden op de volledig vernieuwde website.
Word ook onderdeel van de SocialBlox community door een kijkje te nemen in het Telegram kanaal van SocialBlox. 
© 2021 Crypto Insiders B.V.
© 2021 Crypto Insiders B.V.
Login to your account below
Please enter your username or email address to reset your password.
Necessary cookies are absolutely essential for the website to function properly. These cookies ensure basic functionalities and security features of the website, anonymously.
| Cookie | Looptijd | Omschrijving |
| --- | --- | --- |
| cookielawinfo-checbox-analytics | 11 months | This cookie is set by GDPR Cookie Consent plugin. The cookie is used to store the user consent for the cookies in the category "Analytics". |
| cookielawinfo-checbox-functional | 11 months | The cookie is set by GDPR cookie consent to record the user consent for the cookies in the category "Functional". |
| cookielawinfo-checbox-others | 11 months | This cookie is set by GDPR Cookie Consent plugin. The cookie is used to store the user consent for the cookies in the category "Other. |
| cookielawinfo-checkbox-necessary | 11 months | This cookie is set by GDPR Cookie Consent plugin. The cookies is used to store the user consent for the cookies in the category "Necessary". |
| cookielawinfo-checkbox-non-necessary | 11 months | This cookie is set by GDPR Cookie Consent plugin. The cookies is used to store the user consent for the cookies in the category "Non Necessary". |
| cookielawinfo-checkbox-performance | 11 months | This cookie is set by GDPR Cookie Consent plugin. The cookie is used to store the user consent for the cookies in the category "Performance". |
| viewed_cookie_policy | 11 months | The cookie is set by the GDPR Cookie Consent plugin and is used to store whether or not user has consented to the use of cookies. It does not store any personal data. |
| viewed_cookie_policy | 11 months | The cookie is set by the GDPR Cookie Consent plugin and is used to store whether or not user has consented to the use of cookies. It does not store any personal data. |